THREE POEMS FROM "Learning by Rote"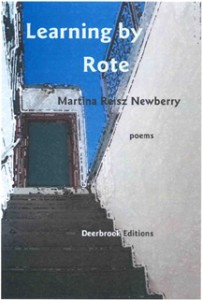 SPIDERS
This year's nightmares are next year's sonnets.
The words exist for people I don't know,
I write them to alleviate the guilt of a population—
people I've never met, people who never were.
It's all right, I tell them, to regret your sins and sorrows.
It's all right to lean into the corners of your couches
and beg for forgiveness. It's normal, I say,
to look into the Who's Who in America
and want to see your name. You are right, to envy
the names there and to start counting your failures.
I know how it is: not receiving prizes reeks
of sweaty palms and botched attempts. Go ahead,
think these things through. Our lives are fragrant
with death, with the intrusion of aging, the reckoning
of death's influence on our desires and dreams,
the desperate tenderness in the face of certain oblivion.
Still, each poem tries to right last year's wrongs. I must
have been born to make something of my days…
After all, how many missing husbands does it take
to show the Black Widow what she really is?
There are consolations: we vibrate with remembered lust
(there is eroticism in every breath),
we arrange chaos to avoid boredom, and what we
leave behind disappears with rare tact.
2. UNFIT GHAZAL
Stroke the arm, the hand, the fingers opening like silk,
fingers lost in hair, arms flexing, unflexing like silk.
How young this makes us, how warm, pretty, smooth.
Only age understands this change, this stirring of silk.
We love the morning, the openness of ourselves to begin.
There is strength in the sun, strength cool and holy as silk.
The mirror touts me as younger than I am, maybe…
my lover says I open to him as does a robe of blue silk.
The stranger on the bus stared and my throat ached
for a drink, a whisky and soda, smooth as silk.
I challenge you to live this life, as full on as you can,
without shame, without fear, put on an armor of silk.
Hear that sound? It's the world's heart, pounding in your ears,
praying for your attention, praying for food, offering silk.
Along this dirt path, where glass and lizards glow,
A new berry bush is trying to prosper. Its leaves are silk.
3. GUERILLA WHINING
This poem is pounding on the door of your perceptions,
groveling at the knees of your conscience.
I offer you the precarious kiss of reality:
the work of the homeless—to survive one more night,
the limiting nature of nuclear incident,
the criminality of our prejudices,
the arrogance of our wealth.
The monsters of commerce call to us and we respond,
choking on $12.95 wine and caraway crackers.
The whites of the world's eyes
are blushing with exhaustion.
Good people have calloused lips from sucking the blame
out of the tall, frosted glasses
held by congressmen and princes.
We want to be dauntless in an era that begs us to forget,
to ignore Iraq, Abu Grahib, New Orleans.
The fragile white palm of a politician's hand,
forever urging the bloody adventures onward,
waving as the world's warring stride off to meet,
is the palm no one touches. We only imagine it
and still it pushes, directs, encourages and waves "goodbye."
Larry Levis says, "terror is a complete state of understanding."
I get that. I agree with that.
Politics is a meaningless famine; it gives us
the necessary vocabulary to discuss our new myths.
It is compensatory collateral that makes of us
sheep children, floating in nameless liquid,
in clear glass jars on the shelves of hell.